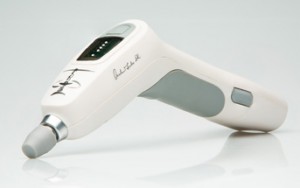 There's a new kid in town. I'd like to introduce you to the new Activator V adjusting instrument. This new adjusting instrument has been designed and rigorously tested to provide a better, more consistent adjustment to the patient.
I've been attending Activator Seminars annually for over 25 years to maintain my Advanced Proficiency rating in the Activator Technique for Chiropractic diagnosis and treatment. Activator Methods is known the world over as a premiere technique for patient treatment. Activator spends a significant amount of time and expense in research and development. I can count on them to offer the newest and best there is to offer and the Activator V is the newest!
The Activator V is the first FDA registered and approved cordless chiropractic adjusting instrument. Instead of the "spring loaded" mechanism in the previous Activator devices I've been using over the years, the new Activator V uses a revolutionary electronic mechanism in order to produce the thrust. The force produced by the instrument has been specifically tuned to provide a deeper, more productive chiropractic adjustment, while still remaining very comfortable for the patient.
As the only Advanced Proficiency rated Activator Method chiropractor in the area, I can offer our patients the latest  innovations in care and treatment for your chiropractic needs. At each Activator Seminar I learn about new techniques for diagnosis and treatment of my patients for myriad conditions, as well as brush-up on my technique.  Activator Methods certifies and re-credentials its doctors regularly to ensure that the Activator Method Chiropractic Technique® is applied with the latest advances in technology, science and practical application.
Becoming an expert takes time, training and the right tools. I continually strive to master the Activator Method using the world's #1 instrument adjusting technique.
The beauty of the Activator is its 'low force' adjustment. Our patients need not fear the cranking or twisting often associated with a chiropractic adjustment. Not only is the technique low-force, but the diagnostic protocol is refined and precise. Activator Methods is backed by over four decades of clinical research. Activator Methods has published clinical and scientific peer-reviewed papers beyond that of most chiropractic analytical treatment procedures. The Activator adjusting instrument is considered a mechanical force, manually-assisted adjusting instrument and is recognized and covered by Medicare.
So, call our office to make your appointment to meet the new kid in town – the Activator V. You can expect to receive the finest in chiropractic diagnosis and treatment, backed by my almost 30 years personal experience as a chiropractor and 45 years of research and development from Activator Methods.